In Vilhelm Moberg's classic novel series The Emigrants, the brig Charlotta sets sail for New York from Karlshamn in Sweden on 14 April 1840. Its passengers hope to escape starvation and hardship for a better life in the new world. Among them are Kristina, her husband Karl-Oskar, and their children.
Det var de djärvaste som först bröt upp. Det var de oförvägna som först gav sig ut på den avskräckande färden över det stora havet. De som stannade kvar, de tröga och tvehågsne, kallade dem äventyrslystna.
It was the bold that first broke away. It was the courageous that first undertook the forbidding voyage across the great ocean. Those who stayed – the tardy and indecisive – called them adventurous.
In 1995, the musical Kristina från Duvemåla premiered in Malmö, Sweden with a 4 hour long score rooted in Swedish folk tradition after 5 years in the making. That autumn I was 12; far too young to understand the magnificent story of love in the Duvemåla meadow, the weather's merciless fickleness, the daughter's death, the courage it took to break away, the roots of the Astrachan apple tree, the questioning of faith, and everlasting love.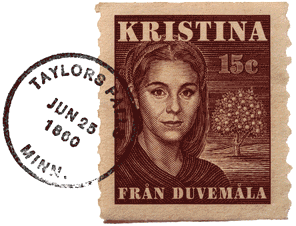 160 years to the day after Charlotta left Karlshamn, Royal Albert Hall saw a concert version performance of the translated musical (entitled just Kristina). Benny Andersson and Björn Ulvaeus make no secret of their Broadway/West End ambitions for Kristina and I'd be delighted if they succeed. However, despite their previous successes Chess and Mamma Mia!, it's not obvious that they will. Kristina is to Mamma Mia! what a slow-cooked Tagliatelle al Ragù is to spun sugar; enjoyable and popular but with subtleties that lack the immediate sugar rush.
Notes on the translation
Translating musicals of any complexity is going to be difficult. Kristina is translated by Ulvaeus and Herbert Kretzmer (who also translated Les Miserables from French). It seems to me an odd choice to not have a translator that masters both languages. Whether that would have improved things I don't know. Perhaps it is unavoidable – short of rewriting the music – that the crispness and character of Ulvaeus original is lost. For example:
In Home, "Mama, Mama" distracts and the emphasis on "home" is lost when
Hemma, var ligger det någonstans? [Home, where is that?]
becomes
Oh, Mama, Mama – where is home?
In No!, Kristina is telling Karl-Oskar he is crazy for wanting to move to America and
Det kunde va gubben i månen, det gör ingen skillnad [It could be the man in the moon, there is no difference]
becomes
It could be the moon, it's as crazy as that, it's a pipedream
A pipedream? I could certainly have this wrong, but that strikes me as unlikely to be said on a simple farm in 1840.
Some phrases made weaker still work though, such as when
Guldet blev till sand [The gold turned into sand]
becomes
Gold can turn to sand
Unsurprisingly Tänk att män som han kan finnas / American Man loses its delightful play with English/Swedish homophones.
The superb Du måste finnas [You must exist] becomes You have to be there. I don't know how to do it differently, but urgency is lost. Kristina's beautifully expressed struggle as she starts to doubt her faith:
Tanken är svinlande, framför mej gapar en avgrund [The thought gives me vertigo, before me gapes an abyss] Hela mitt väsen gör uppror och vill säga nej [My whole being rebels and wants to say no] Frågan är väckt och nu darrar min själ inför svaret [The question is asked and my soul now trembles at the answer] Att Du inte finns till, fast jag trodde på Dej [That You don't exist, even though I had faith in You]
gets translated into the weaker
All of a tremble I stand on the edge of confusion Who is to save me if into the darkness I fall? Now that I need more than ever my God to be near me Do you hear when I call? Are you there, after all?
Don't get me wrong, I don't blame Kretzmer. I couldn't have done it better. I just regret that the potent original loses its character. I'd still love to see this on Broadway or in the West End. It's an excellent score and a magnificent story regardless of the translation.